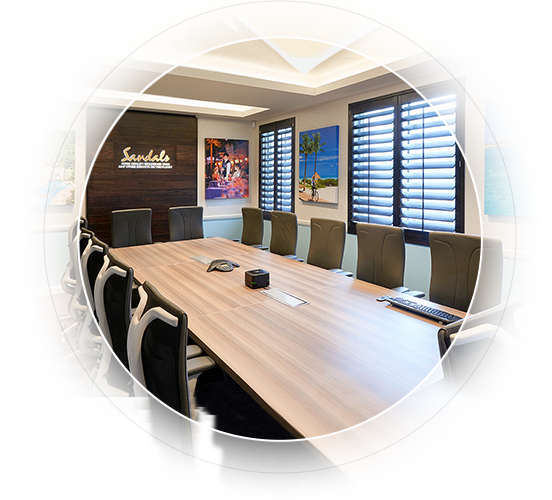 The Sandals store is the perfect backdrop for hosting an event, with a fantastic array of facilities and a passionate team dedicated to delivering results. Alex Watson Director, SquareUp Media
Opened in 2016, The Sandals Luxury Venue enjoys a prime position in the heart of Chelsea, London. This 5,000 sq. ft. interactive store immerses visitors into the world of the Sandals & Beaches Luxury Included® concept through a range of educational and sensory experiences.

VENUE MEETING ROOM
The state-of-the-art meeting room offers a professional meeting space for up to 14 delegates, alongside leading-edge video and audio technology. It's the perfect space to conduct your meeting within a stones' throw of Central London.
MEETING ROOM PACKAGE INCLUDES:
Meeting room from 9am – 5pm
55" Flat screen TV
HDMI and VGA laptop connections
Fast speed Wi-Fi
Conference phone (outgoing call charges will apply)
Pads and pens
All day tea, coffee, and water
VENUE EVENTS
The Sandals Luxury Venue is the perfect space to host your next corporate event. From board meetings to memorable parties, it's the ideal backdrop for a flawless event.
Our In-House Sandals Corporate Events team are happy to help plan your perfect event, taking advantage of the luxurious décor, state-of-the-art sound system, catering facilities, and a full list of preferred suppliers.