Book Now
Check Rates & Availability
UK
Book Now
Check Rates
& Availability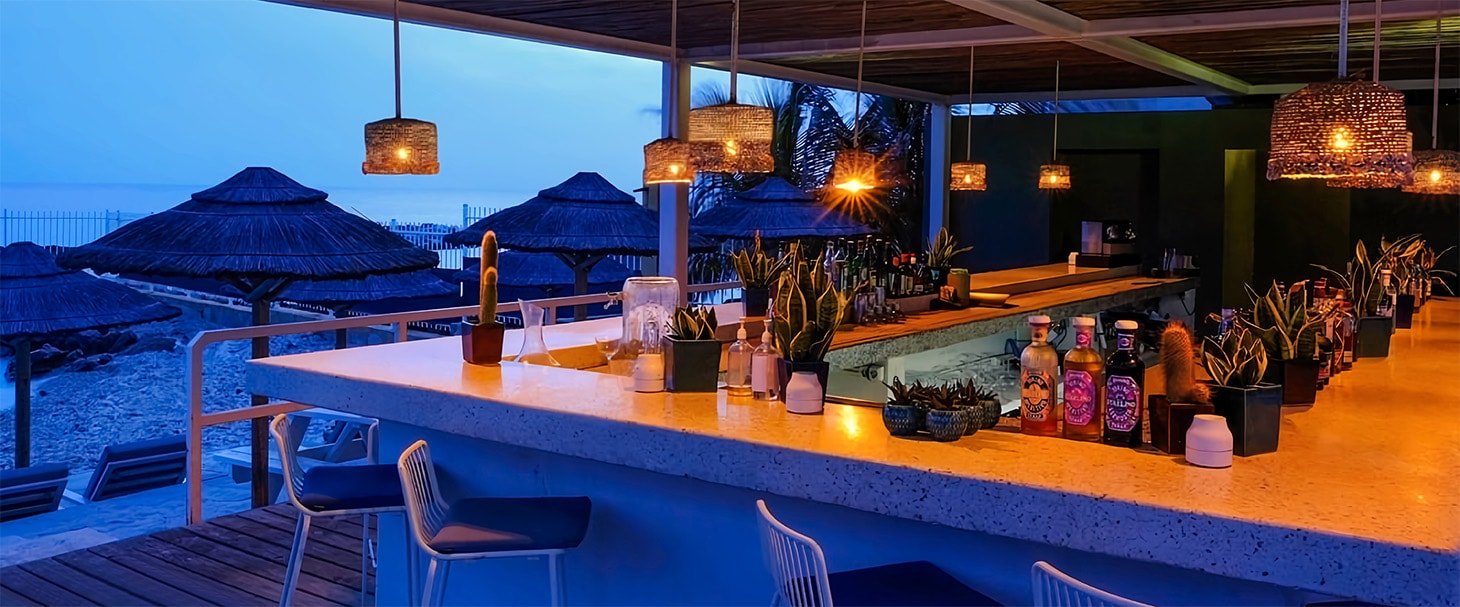 Introducing The First-Ever Dine Out Program
Island Inclusive Dining
Explore the taste of Curaçao
Enjoy the rich flavors and colorful traditions shaped by Dutch, Caribbean, Latin, and Creole influences on a culinary journey to explore the taste of Curaçao that perfectly pairs with our 5-Star Global Gourmet™ and satisfies the appetite for an unmatched Luxury Included® Vacation.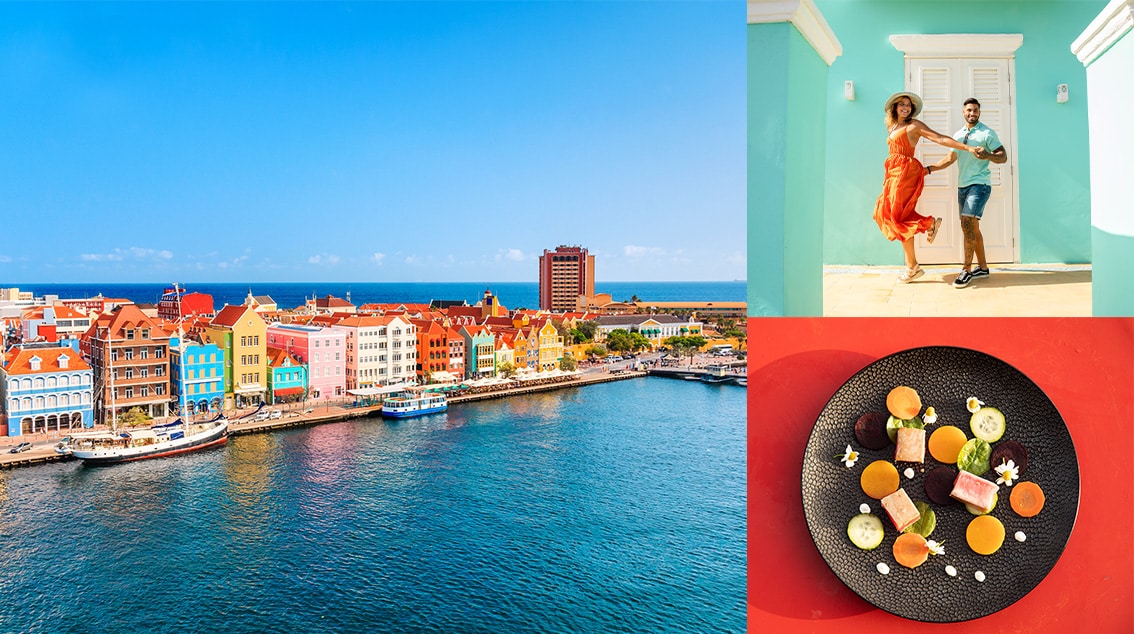 $250 Dine Out Credit
For select restaurants in Curaçao
Choose from a curated collection of eight restaurants ranging from cool to classic that serve up delectable authentic cuisine showcasing the creativity of local chefs and the amazing ways they channel their passion into unique culinary experiences. Plus, round-trip transfers to the restaurants are included!
Available for qualifying bookings at Sandals Royal Curaçao of 7+ paid nights in a butler suite or 7+ paid nights in any room category for Diamond Level and above Sandals Select Rewards members.
Locally Included Restaurants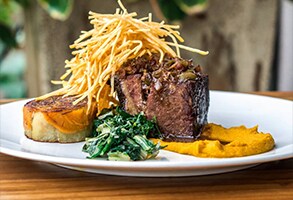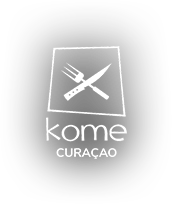 A unique concept to Curaçao with wood-fired meats, a professionally relaxed service style, and a commitment to green practices. Inspired by global cuisines and local ingredients, chefs create menus influenced by their many adventures through the years.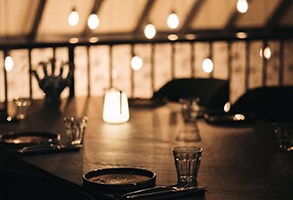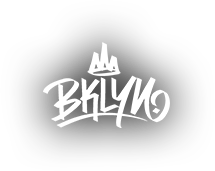 A chic, contemporary and cozy Gastro-bar where you can sit down, fill up your table with a wide variety of sharable food, elegant wines, bespoke cocktails and much more. Enjoy classic 90's hip hop music playing in the background.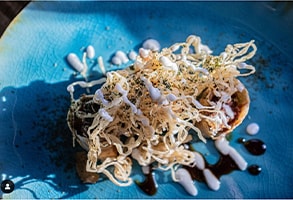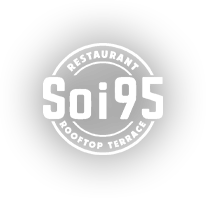 Contemporary Asian flavors and a mixology experience. Secure a spot at the bar to be front row to the magic of the bartenders or regular seating along an awesome mural.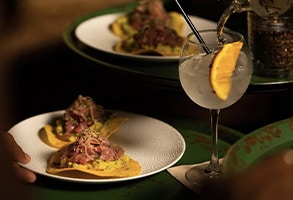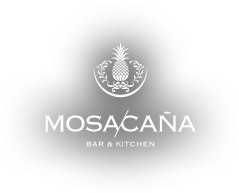 Mosa caña bar & kitchen
Latin/Caribbean fare
Offering international fusion and Latin/Caribbean fare to be shared with loved ones. Enjoy the upbeat atmosphere and delicious cocktails inside or outside in the garden terrace.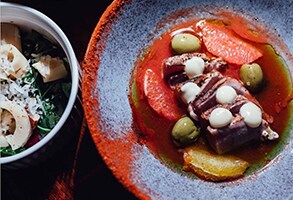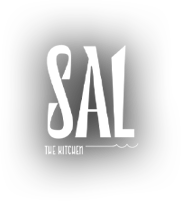 Sal The Kitchen
Chill Vibes
A unique dining experience serving good food, fine wine, and chill vibes. The walls of this restaurant, and specifically the kitchen were built of coral. To this day, the coral contains salt that slowly extrudes out of the building. Hence: Sal.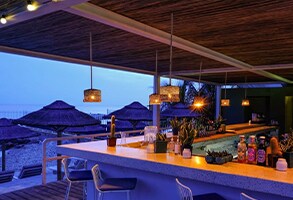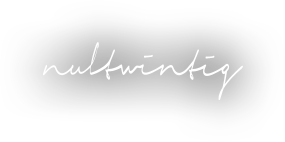 Restaurant Nultwintig
Contemporary Asian
Set directly on the Caribbean Sea where different colors of blue merge into each other, a team of international chefs will take you on a culinary experience with high level dishes that are freshly prepared and beautifully paired with select wines.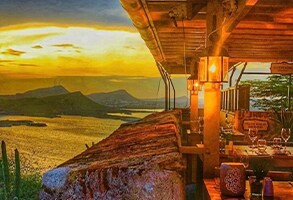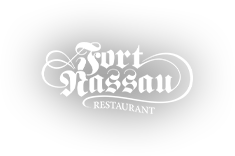 Fort Nassau
Casual fine dining
Restaurant Fort Nassau offers a diverse menu and can be best described as "casual fine dining." The Curaçao sunset is best viewed from the terrace around the bar with a tropical cocktail in hand.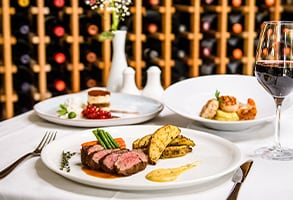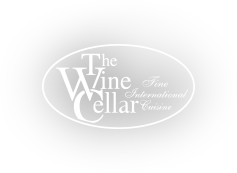 The Wine Cellar
A French restaurant
A popular and exclusive French restaurant, this is the perfect place for a delicious lunch or a romantic dinner. Owned by Nico Cornelisse, a 'Maitre Rotisseur' from Holland, it has been a renowned dining room in Curaçao for more than thirty years.
Sandals® Royal Curaçao Locally Included Flavour -
Dine Out Programme
To be eligible for this promotion guests must fulfil the following conditions:
Programme is valid for new and existing bookings only, one per qualifying booking
Programme is valid for qualifying bookings staying seven (7) nights or more in Butler Suites below:
A1OG, A1RS, AS1G, AS1B, ASP, CS1B, KB, WM1, B1, and WB1, OR Sandals Select Rewards Guests at the Diamond, Pearl, or Ambassadors Club Levels staying seven (7) nights or more in any room category
Programme is valid for guests staying at Sandals Royal Curaçao ONLY and must be redeemed during resort stay
Qualifying bookings will receive one voucher per seven-night stay to be eligible for USD$250 Dine out credit
Only one USD$250 Dine Out credit voucher per 7-night stay redeemable at participating restaurant and cannot be combined with other qualifying vouchers
Any unused amount is not transferable or applicable for any future redemption at other participating restaurants
The Dine Out voucher of USD$250 per room is issued upon arrival at the resort at the Culinary Concierge Desk (CCD)
Dine Out Programme is valid for lunch or dinner for qualifying guests at participating restaurants
The Dine Out credit voucher of USD$250 per room will be inclusive of food, beverages, alcohol, taxes, and gratuities
Participating Restaurant listed below and are subject to change without notice:

I. Kome: @komecuracao
II. BKLYN: @bklyn_curacao
III. Soi95: @soi95_curacao
IV. Mosa/Caña Bar & Kitchen: @mosa.canabarkitchen
V. Sal, The kitchen: @sal.thekitchen
VI. Restaurant Nultwintig 020: @restaurant_nultwintig
VII. Fort Nassau: @fortnassau
VIII. The Wine Cellar: @thewinecellargroup

Upon arrival, guests will be encouraged to make reservations at the CCD and receive their reservation card/voucher confirmation with time, date, restaurant, transfer, and cancellation details
CCD will confirm all dietary requirements, special celebrations or any other important information and communicate to participating restaurants
Butler guests will communicate all reservations via their assigned Butler or at CCD if they so choose
Complimentary transportation is valid for two adults per reservation card/voucher to and from participating restaurants only
Cancellation charges of USD$50 per person will apply for Dine Out reservations cancelled within 48 hours at guest's expense
Cancellation charges are not applicable for Dine out reservations cancelled over 48 hours
The programme has no cash value and cannot be sold, exchanged, or transferred to another booking
This programme is applicable to paid bookings and excludes industry rates, friend and family discounts, complimentary stays, or prize winners
Programme and participating restaurants are subject to change and can be withdrawn at any time
Unique Vacations and Sandals Resorts are not responsible for errors and omissions



Sandals® Royal Curaçao
Locally Included Dine Out Program
FAQs
How many different restaurants can I choose from and is transportation included?

You can choose one of eight different restaurants for lunch or dinner. Roundtrip transportation is included at no additional cost to you.

Can we make reservations for the off-site dining prior to arrival on resort?

No, reservations cannot be made for off-site dining prior to arrival on resort. Reservation is made upon arrival at the resort at the Culinary Concierge Desk (CCD).

Can we invite guests we are traveling with and pay the difference?

Yes, you can invite guests, however transfers will be additional as well as any amount exceeding the voucher credit of USD$250.

Can we place a to-go order and have a driver pick up and deliver it to us?

No, vouchers are only valid for in-person dining.

Why don't I qualify for a restaurant credit voucher?

The restaurant credit voucher is exclusively for guests booked in Butler Suites, and for Sandals Select Rewards Members (Diamond, Pearl, and Ambassadors Club Levels) in any room category, based on a seven-night minimum stay.

Can you redeem the USD$250 credit voucher multiple times at different restaurants?

No, the voucher is applicable for one dining experience only, based on a qualifying stay.

If I have a 14-night stay, do I get two USD$250 credit vouchers?

Yes, you will receive a USD$250 credit voucher for every qualifying 7-night stay.

Is there a cancellation fee if we cancel?

Yes, cancellations within 48 hours of the reservation date/time will incur a USD$50 per person cancellation fee and is at the guests' expense.

What if we go over or stay under our USD$250 credit voucher?

Any amount over the USD$250 credit voucher will be the responsibility of the guest. The USD$250 is applicable towards the cost of food, beverage, alcohol, taxes, and 18% gratuity. No refunds or cash value will be provided for balances below USD$250.

Do all these restaurants cater to dietary restrictions?

Yes, with limitations. The Culinary Concierge Desk will confirm based on restrictions.